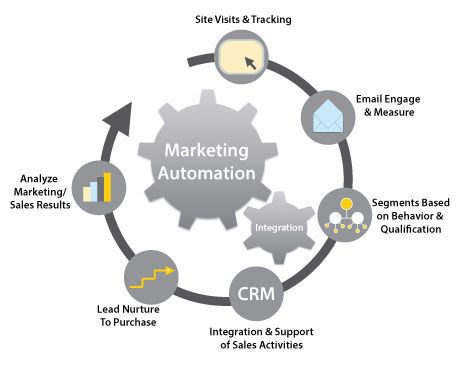 The business world is awash with talk about marketing automation at the moment, but what does it really do for a business? Whilst there are many different software packages out there with all sorts of bells and whistles, perhaps one of the best ways to explain marketing automation is to explain the value it creates rather than the functionality it has. Here are four ways that it can create value for your organisation:
1. It allows you to capture and nurture leads
Most companies small and large now accept that very few people will click an advert or link, arrive at your website, make a decision to purchase your service or product and buy straight away.  Prospects need nurturing and developing into sales.  They want relevant content that informs them and even entertains.  Marketing automation allows you to create campaigns which, once set up correctly, will provide relevant content to your prospects, slowing down if they don't open or click on emails, and then speeding up if they do.  This is a better approach than just emailing everyone everything just in case, a quick way to find yourself in the junk folder.
2. It enables marketing across different channels
The world of marketing, digital and otherwise is becoming more and more fragmented, with more and more channels, making it harder to track and harder to manage.   If you have to manage these channels on a purely manual level it basically means you have to choose which channels you can't afford to be in.  With automated nurture campaigns, once it is set up, monitoring takes much less manpower.  So you can have your cake and eat it, with the main focus of marketing on setting up more and more channels that generate leads and are then automatically nurtured.
3. It helps to focus your sales team's efforts by identifying the best 6 leads out of 1,000s
Lead scoring takes all the online behaviour prospects have exhibited and gives each click a score.  Looking at a pricing page for example will be given a much higher score than opening an email.  You can then programme this score to show which prospects at any given time are showing the most interest.  So instead of a sales person scraping around lists of 1000's of people trying to find the hot leads, they focus on the 6 people that morning that have demonstrated the most buying signals.  This functionality can be so powerful, organisations that traditionally never incorporated outbound calls into their sales and marketing  mix, should start to consider it.
4. Advanced segmentation
Most segmentation has been done as by marketers to help improve the results of their efforts.  The more targeted the message the more response we will get.  It has been historically a construct of the marketers imagination, putting consumers into boxes lovingly labelled C3 or A1 customers.
The reality is these boxes are a simplification and surprise surprise some C3 customers buy products that are intended for A1 customers – the cheek of it!
Marketing automation allows you to segment based on behaviour based on what people are actually interested in not what we think they are interested in or what they say they are interested in.  And this can be done. Yes you've guessed it – automatically.  The exciting challenge is we can start to think of interesting ways to segment other than social category or age.  Perhaps on people's values, or interests?
The value to all this is the more sophisticated and relevant your messaging is, the better your results.
5. Prospecting
Google analytics is great for an overview of the trends of what people are doing on your website, bounce rate, hits, clicks etc.  Trends or flows of what your audience is looking at.  Where it falls down is individual detail.
Some marketing automation suites can give you detail at an individual level.  If a prospect or customer has been on your website it can how you what they have been looking at before that all important review meeting.
Cold prospects who are not customers can also be identified as it matches up IP addresses of companies hitting your website with those of known IP addresses.  If you approach organizations that you know have been looking at your website versus those who have never heard of you, which is most likely to lead to success?
Are you interested in finding out more about how marketing automation can add value to your business? Please don't hesitate to contact us for a free marketing automation consultation.